Offense on Democracy
Josh Marshall
President Trump's decision to allow the full, formal transition process to move forward signals the end of any real attempt to overturn the results of the 2020 presidential election. It's been clear for a while that this effort would fail; now you can be sure of it. The real impact of the blizzard of lies and frivolous lawsuits about voter fraud, however, will be as the premise and predicate for a new round of voter suppression laws Republican legislatures and GOP-appointed judges will try to put into effect starting next year.
We've seen this pattern before, as predictable as day follows night.
Read More
Miscellany
Today, TPM is 20 years old. This December, as we close out one of the most exhausting, stressful, and bizarre years of our lives, we'll be revisiting and celebrating some of the most interesting and noteworthy events from TPM's history.
Read More
News
The Affordable Care Act appears poised to survive its third confrontation with the Supreme Court largely intact.
At oral arguments Tuesday in a lawsuit brought by red states and supported by the Trump administration, Obamacare's defenders got signals that there are likely at least five votes on the conservative Court in favor of preserving the bulk of the law.
Read More
News
President Donald Trump will go down in history as a one-term president.
Read More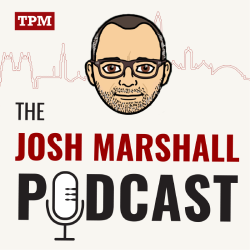 Ep. 147: TPM's Investigative Reporters Take Us Inside Their Scoops
Josh Kovensky, Tierney Sneed and David discuss the latest on the Trump campaign fruitless effort to steal the election, the surge of coronavirus cases as we ent...
MEMBER EXCLUSIVES
PRIMEWIRE